All The Reasons NOT to Buy a Sony TV
When I wrote my
post about my Sony Bravia Android TV going kaput in two and a half years
, I thought I was the only one. I thought, "this has to be an anomaly, it's just plain bad luck". Since then however, the number of people I've found with strikingly similar issues is just too coincidental to ignore.
If you're planning to buy a Sony TV, please, please - take a look at these tweets, reach out to these people yourself and ask them if they think that's a good idea. Or skip ahead to the
summary
.
Disclaimer
I've not included people complaining about other products, like headphones, etc. I've also excluded complaints against Sony India aftersales support for other products, like
this one for a PS4
or this one for a
Sony Experia
. Also excluded are reviews on other platforms like
this one on mouthshut
. This list is for TVs alone, in the last
two
four weeks, on Twitter.
Tweets
@sony_india 2yrs back bought 65" TV rate 350,000, the display seems to have gone bad now. Digi 9 Andheri West seller now has offered 2000 in exchange offer for me to buy LG TV. @sony_india I did not expect the quality from sony to be like Chinese brands. What a waste of my money

— Proud to be Indian (@TrueInd24011805) 3 August 2019
@sony_india how do you know that my tv KLV-40W672E\B(07LCDTV) warranty period is over just a month ago June 19. There appeared a black line on the left side across the screen.
Why?
I mean why just after completion of the warranty period?
How much will it cost to me now? pic.twitter.com/kGTtUeRczE

— Ramlal (@ramlalpassi29) 3 August 2019
Sony has the worst customer care. I bought 55" and 50" two years back. Both have started having problems and their customer care is lazy and non compliant. I'm never buying Sony ever again. There are better tvs in lesser price and better service

— neha (@nehagoyal29) 4 August 2019
Pl dont buy such expensive tv of sony. I bought bravia LED in 2014 and 5yrs down, TV display panel developed horzontal lines and eventually tv died. Sony service centre confirms this much life. Very frustrating. I lost precious money.

— Abhishek Sinha (@abhishek0028) 4 August 2019
Still pathetic quality and service.
We bought sony tvs but there motherboard always die i never recommend anymore waste of money

— Swatantra Dwivedi😼 (@acidkidrock) 30 July 2019
@sony_india
Aarvee Infoservices Mumbai , had charged us Rs.9000 for replacing motherboard of led tv model KLV49W752D. TV stopped working within 2 days after replacement. Now they say that display needs to be changed & asking for additionalRs.28000. This is Not justified.

— RAJESH GADDA (@gadda_rajesh) 5 August 2019
@sony_india
My recent experience with a Sony Bravia has been https://t.co/nOK1KUCpb5 expected a quality product from Sony. The screen went bad in just 2 years!
I am supposed to change it a price o Rs 10k.
I am sure the repaired/replaced screen will last then i year and then?

— Anand Kurien (@AnandKurien) 5 August 2019
@sony_india Bought sony w800d 2 years back (out of warranty) which stopped working after installing sony's update. Sony asking me to pay for a new motherboard & cust care closed my case (no.54861425). Where is the justice? Is this cust service? @Sony #commonmantweets

— prasanna (@prasannazad) 31 July 2019
I agree... Sony is dying. I don't think there's anything left in it now. We buy such expensive products for the quality and brand value and this is what happens. 1 lakh worth of TV doesn't last for even 2 years. 😓

— Vishal Khedkar (@WittyVishal) 4 August 2019
@sony_india

It's really sad to see that the TV panel for Sony 50W950D got complaint in one year and two months after replacment. In 2 year and 8 months, this is the second instance. I feel dejected with Sony as this is my second TV having same issue. Someone please help

— Jino Kurian (@jino_kurian) 18 July 2019
In less than 3 years, I'm sad to announce the demise of our Sony Bravia TV. We are extremely shocked at its untimely death. In this troubled time (with World Cup happening), we seek

@sony_india

support to breathe-in a new life to our TV. Please send in your condolences via DM now

— Pierced Spear (@bambajaya) 10 July 2019
@SonytvBravia

Buyed a 32' tv in 2012. Display stopped within warranty Then after 2 years main panel stopped working then again after 2 years display stopped working Is this the quality product been sold by Sony India.

@SonyElectronics

— Ashutosh (@ashu10june1) 9 July 2019
— RAJ SINHA (@raj4everone) 12 July 2019
Hey how about you address my complaint about this same X80G TV that I raised yesterday?!
Had no clue Sony's service is so bad. Helpline never connects, you don't respond on Twitter and emails go unanswered as well.
Please respond to my concern tweeted to you yesterday

— Neha Chamaria (@NehamsChamaria) 28 June 2019
@sony_india

My W95D series TV, 2.5 years old, just cranked. The service personnel simply told that the motherboard went corrupt while the software was getting updated in the backdrop.

#SunilNayyer #SachinRai

I have question for you, is the longevity of

#W95d

is only 2.5 years?

— devesh gupta (@_deveshgupta) 29 June 2019
@sony_india

don't buy sony TV .no durability of there product..just after one year it will malfunctioned and then you will have to a huge sum to sony again as repair charges and after repair there is no further warranty just after 3 months..well done sony

— Vikas (@Vikas66333197) 4 July 2019
I bought Sony Bravia

@sony_india

for 70 k to see this after 2 years, whereas my friend had bought MI tv for less than half the price. Looks like he made a good decision.

pic.twitter.com/ITY1FzY4Bk

— md.shouqatali (@md_shouqatali) 24 June 2019
Dear

@sony_india

, what's the fuck is going on? When I purchased, you tell me its covered 2years warranty. But, now telling me its only covers panel. I am not eligible to extend my warranty also.fuck!

@Sony pic.twitter.com/032AZaVTuT

— sINchan sOM10.07✡✝🕉 1God 🆖🅰™️ 🎫🔛⚠️🔞⚠️ (@sINchansOM) 1 July 2019
Buy Bravia and stuck with disaster after sales Sony service that will damage your product more after repair attempt. Line in display after motherboard repair by Sony auth service centre and they ask for more money. Totally unethical and poor service. Never buy Sony.

pic.twitter.com/n7xjxRtgGK

— Rajat Saini (@rajat2saini) 26 June 2019
Worst aftersales service i had ever experienced !!!!

I'm facing display issue in My L.ED T.V from last 3-4 month. From last 15 days L.E.D submit in service center. customer Care executive said it will take 15 days more to repair.

Don't buy Sony product..

@sony_india @Sony

— Gurdeet king (@GsGurdeet) 2 July 2019
@sony_india

hardly any technology in ur Technocare Solutions complaint centre Delhi. After rptd reminders they can't even confirm if Sony India has their own spares. & abrasive response on the phone. Try checking out status of complaint ID 54646826 on ph as consumer.

#disservice

— Poonam Gulati (@pgulati1aug) 1 July 2019
@Sony

OLED TV

VERY BITTER AND BAD EXPERIENCE WITH SONY .SONY OLED 65 INCH TV CAME AS DISASTER TO ME IT HAVE VERTICAL BENDING WHICH IT SHOWS IN GREY AND DARK SCREEN BUT SONY TECHNICAN SAYS ITS SCREEN DESIGN ON IT(HOW POOR) ..MY TV IS JUST 1 MONTH OLD HARDLY USED 2 OR 3 TIMES.

— Karan Ajit Singh Jubbal (@AjitJubbal) 6 June 2019
@sony_india

trying your toll free number is quite frustrating regarding my Bravia TV problem. It automatically disconnects as soon as you select option 3 for repair. My 48 inch Sony Bravia TV is getting multiple lines across the screen and ghost images. Anybody else facing this?

— Varun Kapoor (@VarunKa75198845) 6 July 2019
Summary
Here's what to expect in 2-3 years after you buy a Sony TV -
A major part will go kaput.
You'll end up getting a quote in the range of 30%-85% of the cost of your TV.
You'll complain.
Sony India will reply with something along these lines:


Our team has already provided you with the final stance. Please reach out to us @ 1800-103-7799 for further assistance. Thanks!

— Sony India (@sony_india) July 8, 2019

You'll complain some more.
They'll block you.


— Rajat Saini (@rajat2saini) 9 July 2019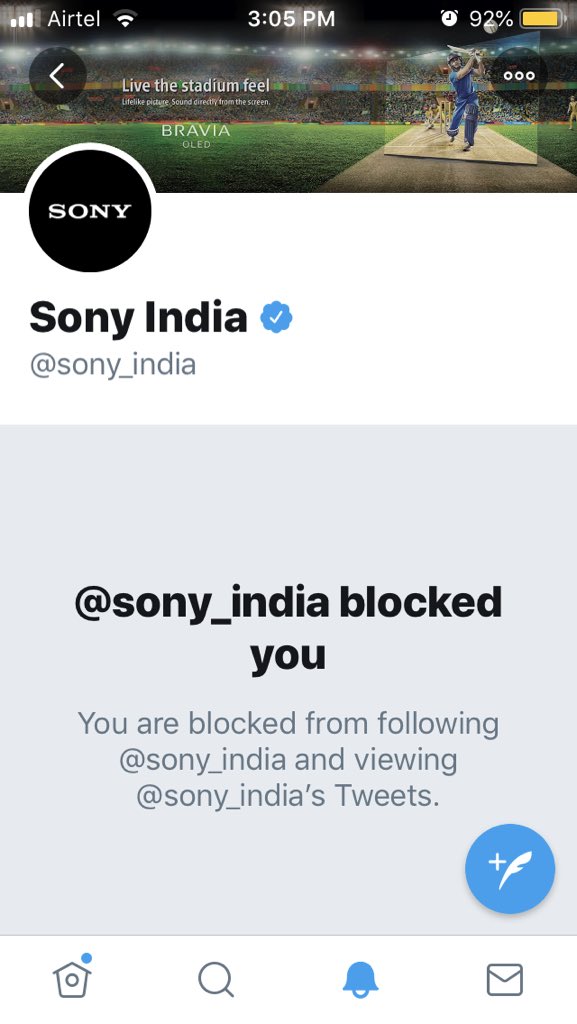 I don't know what's worse, Sony India's attitude or their social media management by
The PRactice
. What I do know is that you
listen
to your customers, you don't
block them
.
If you've had a similar experience with Sony TVs, please post a comment below.